Denmark has implemented a number of initiatives resulting in a remarkable tripling of both bystander CPR and survival rate for victim of sudden cardiac arrest. A main contributor to the massive change is TrygFonden.
About TrygFonden
The Danish foundation TrygFonden works to make Denmark a safer place to be. Our mission is to inspire everyone in Denmark to take responsibility for their own safety as well as that of others. TrygFonden manages the campaign You Can Save Lives as well as the website www.hjerterstarter.dk.
Read more about TrygFonden.
Case Denmark
Every year, 5.400 people suffer Out of Hospital Cardiac Arrests (OHCA) in Denmark. Since 2001, Denmark has succeeded in raising bystander CPR from 19% to 77%. In the same period, survival has gone up from 4% to 16%. It is an extraordinary improvement compared to other countries, and it is the result of a targeted action from many actors. The ambition is to raise bystander CPR to 85% in 2018 – which will put Denmark among the countries with the highest bystander CPR-rate.
The graphs below show the development in 30 days survival, bystander defibrillation in public location and bystander CPR.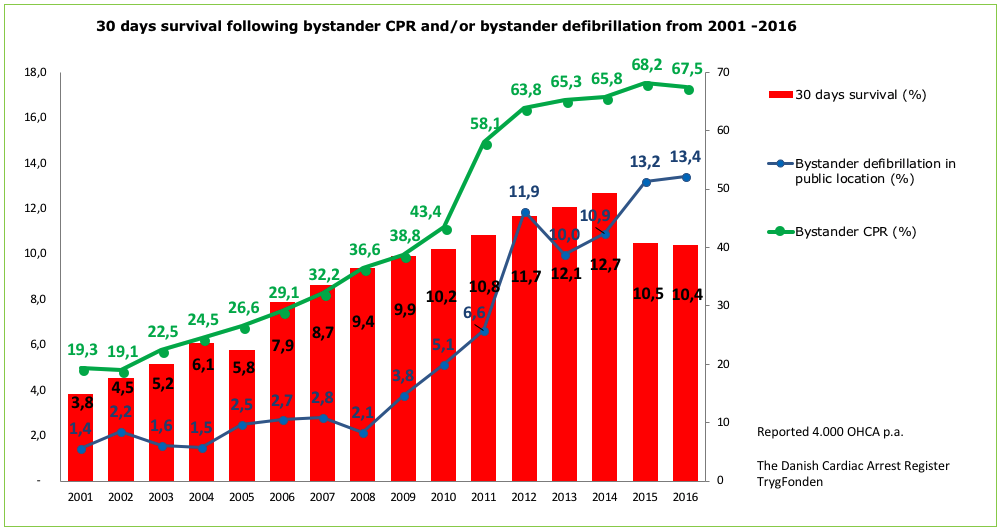 TrygFonden Hjerteløber (smartphone app) - development in registered citizen responders
Development in the amount of registered citizen responders for each of Denmark's five regions (Click to enlarge image)
Total amount of registered citizen responders nationwide and in each of Denmark's five regions (Click to enlarge image)
Net growth in amount of citizen responders compared to activities related to the heartrunner (hjerteløber) project. (Click to enlarge image)